Upcoming Releases
Details

Written by

Josh Wafford

Category: Upcoming Releases
Hits: 133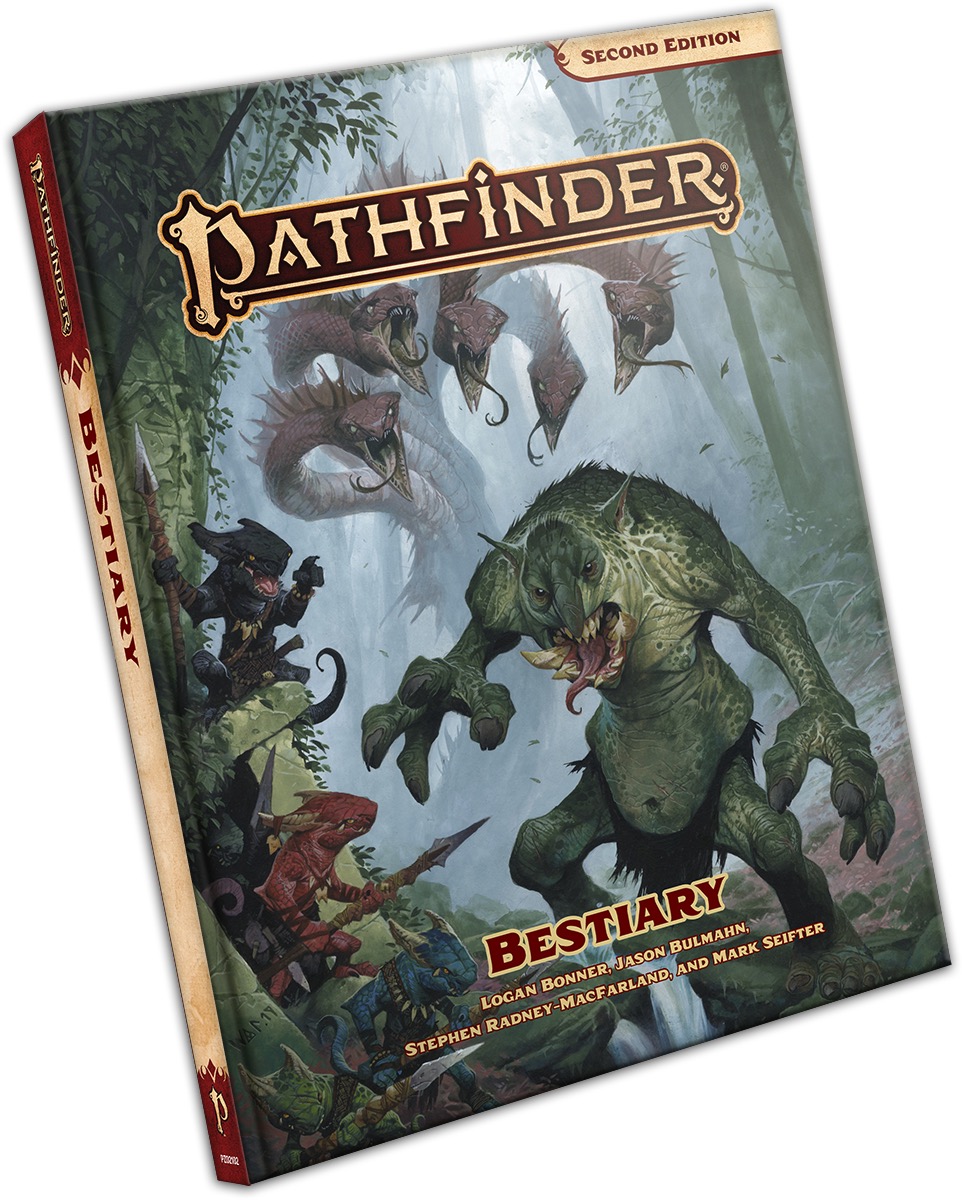 PZO-2102: Pathfinder Second Edition Bestiary
MSRP: $49.99
Over 400 of fantasy's fiercest foes burst from the pages of this enormous 360-page compendium of the most popular and commonly encountered creatures in the world of Pathfinder! From familiar enemies like orcs, dragons, and vampires to new horrors like the nightmarish nilith and the three-headed mukradi, to suitable servants for summoners of every alignment, this must-have companion to the Pathfinder Core Rulebook is crawling with creatures to challenge characters of any level.
The Pathfinder Bestiary includes:
More than 400 monsters!
Gorgeous full-color illustrations on nearly every page!
Detailed monster lists sorted by level, type, and rarity to help you find the right monster for any situation!
Universal monster rules to simplify special attacks, defenses, and qualities like grab, swallow whole, and regeneration.
Guidelines for providing appropriate monstrous treasures for any occasion.
Detailed lore sidebars offering additional information about Pathfinder's most popular monstrous friends and foes!
Details

Written by

Josh Wafford

Category: Upcoming Releases
Hits: 129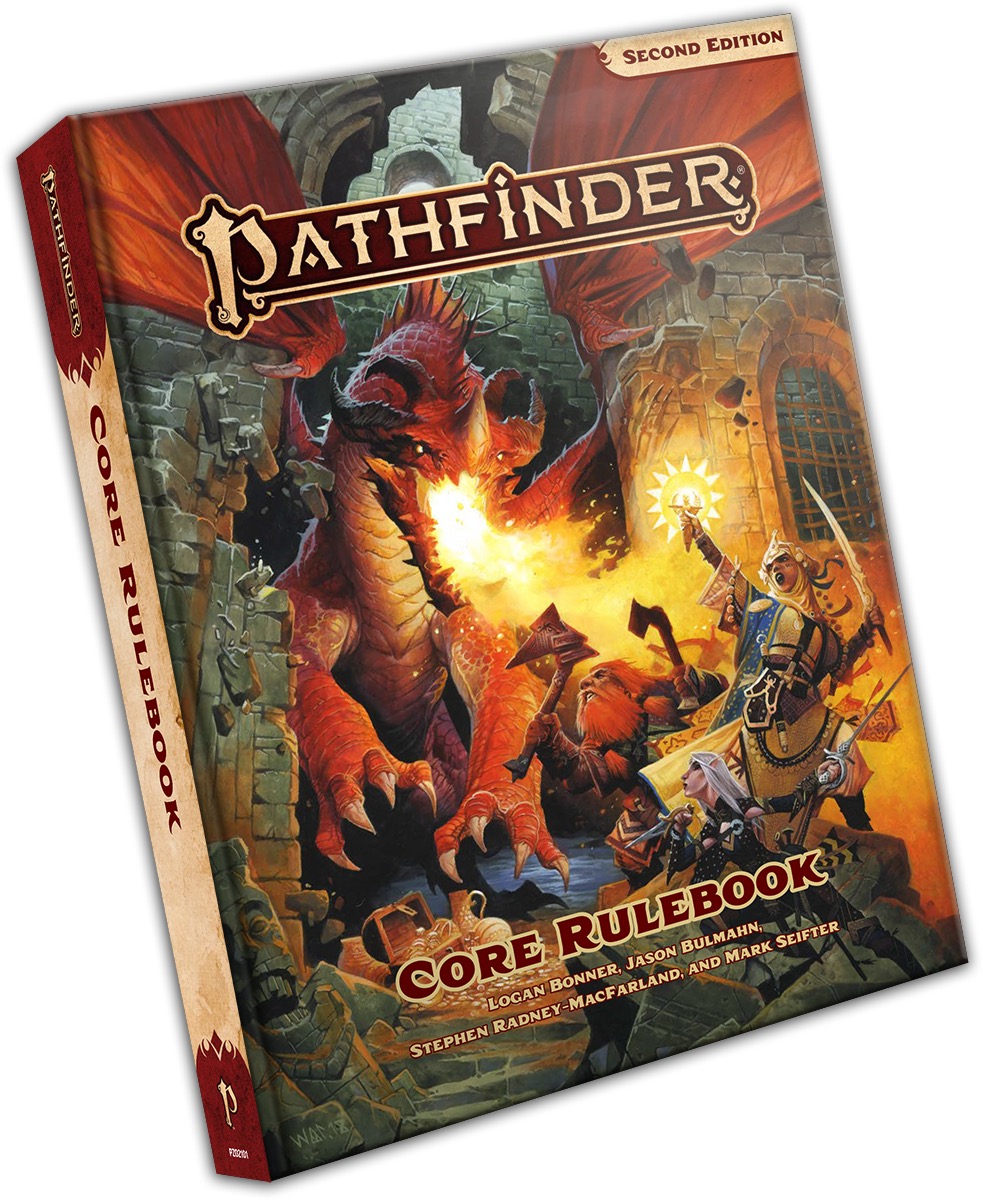 PZO-2101: Pathfinder Second Edition Core Rulebook
MSRP: $59.99
This comprehensive 640-page guide to the Pathfinder roleplaying game provides everything you need to set out into a world of limitless fantasy adventure! Choose from ancestries like elf, human, and goblin and classes like alchemist, fighter, and sorcerer to create a hero of your own design, destined to become a legend! The new Pathfinder rules are easier to learn and faster to play, and they offer deeper customization than ever before!
This indispensable volume contains the core rules for players and Game Masters, and is your first step on a heroic new journey!
The Pathfinder Core Rulebook includes:
More than 600 pages of game rules, advice, character options, treasure, and more for players and Game Masters!
Six heroic player character ancestries, including elf, dwarf, gnome, goblin, halfling, and human, with variant heritages for half-elf and half-orc!
More than 30 backgrounds like bartender, soldier, or apprentice to further immerse yourself in your hero's backstory!
Twelve character classes, including the alchemist, barbarian, bard, champion, cleric, druid, fighter, monk, ranger, rogue, sorcerer, and wizard!
Hundreds and hundreds of spells, class feats, and other exciting abilities to help you customize your character to become the hero YOU envision her to be!
Streamlined and revised rules to help ease new players into the game while providing the depth of character options and tactical interest that have defined Pathfinder from the beginning!
Details

Written by

Josh Wafford

Category: Upcoming Releases
Hits: 94
PAN-201902: Mental Blocks
MSRP: $39.95
Mental Blocks is a game of puzzling perspectives from Pandasaurus Games, designed by Micah Sawyer and developed by Jonathan Gilmour (Dead of Winter, Dinosaur Island)!
Players complete a puzzle using oversized foam blocks, but you can only see one perspective of the design. You'll have to cooperate to complete the puzzle as a team, but you had better hurry—there's a time limit. Plus, players have different additional challenges, such as no talking, or not touching certain colors of blocks.
Mental Blocks is fast, frantic fun with 60 puzzles in the box—30 in Family mode and 30 in Challenge mode—that all ramp in difficulty. You can also add a traitor to add even more chaos to the mix!
Details

Written by

John Coviello

Category: Upcoming Releases
Hits: 135
The Walking Dead: Call to Arms Rulebook
MGC-WD027
$19.99 MSRP
As the name suggests, Call to Arms represents larger scale conflicts. The lone travelers struggling to survive in what's left of the world have now formed communities, built walls, and gathered arms.
However, the harsh conditions outside their walls have led these groups to fear the outside world. They see other groups as a threat to their very existence –no longer are the dead the only ones to fear…
New rules and competitive scenarios. Rules for two starter warbands.
The Walking Dead: Call to Arms Woodbury Army Faction Pack
MGC-WD139
$39.99 MSRP
Contents:
The Governor
Gloria
Lilly
Smitty
Harold Abernathy
Eugene
Wes
7 Character Cards