Details

Written by

John Coviello

Category: It Oozed From the Office
Hits: 2322
I am happy to announce that 'It Oozed From the Office', my irregular blog of rantings and ravings on the games industry, will now be ... well, 'regular'.
I've been asked to join a panel of fellow game retailers, on the Manaverse Podcast, for a series of bi-weekly round tables in which we address hot topics and trends of our industry. These audio podcast will make their appearance here in addition to the usual video/written episodes I've done in the past. You can now listen to the voice of your favorite FLGS on your commute to work or during your exercise routine!
The intrepid crew includes yours truly and:
Thomas Traplin, our host and producer of the Manaverse Podcast.
Travis Parry, owner of The Nerd Store in Greeley, Colorado.
Wayne Mittlestaedt, owner of Dueling Grounds in Toronto, Canada. You can hear Wayne talk more about what makes his business unique in episode 17 of the Manaverse Podcast.
This episode's topic was the recent GAMA Trade Show, also known as GTS, which happens every year right here in Las Vegas. In addition to being the only trade show for our industry, GTS offers unique networking opportunites for those of us in the business of selling games, and is a mandatory first-stop for anyone contemplating opening their own store. In this episode, we shine a light on what makes GTS so important and take a few short diversions into future topics for the show.
(use the buttons above to stream or download an audio-only version of this episode - scroll below for the video version)
If you have questions about the industry that you would like answered, you can ask them by sending an owl through our shop's contact page or you can friend me on Facebook and send me a message there. You can subscribe to Manaverse podcast on iTunes or Android.
Details

Written by

John Coviello

Category: It Oozed From the Office
Hits: 2648
Welcome to part II of my ongoing series of previews of our new home, which is set to open its doors later this year.
Ever since the announcement of our move went out, the big question on everyone's mind has been: where to? Well, we're ready to show you! Click on the video below to find the spot and scroll down for more spoliers on the new location.
LOCATION

I know that a lot of you are happy with our choice: one of greatest concerns voiced in your feedback was that we would be moving far away from our current location. To be honest, we also shared that concern. While it is true that many of you travel great distances to see us, it is also true that a lot of our fans live nearby or find our location easy to reach. Our current spot is in a nice area of town, has decent parking, is easy to reach and features good visibilty so, finding a large space close by was a stroke of luck and an opportunity we simply could not pass.
That being said, I am also aware that many of you will be disappointed to learn that we are not moving closer to your home, which is why we are not ruling out the possibility of a second location. A few things need to line up and we will need to settle down with our new spot before we can make that move but, at this point, anything is possible and prospects look good: we'll just have to beg for a little more patience on your part.
MORE PRODUCT

If you've read the first part of our spoilers, you know that one of the driving forces for moving to a larger location was the necessity of adding more product lines to our inventory. Here's a few more samples of what you can expect to see there:
Airbrushes: I already discussed the addition of more paint lines and modeling tools but I forgot to mention an important instrument that is quickly becoming a must-have for most hobbyists. While once reserved for elite miniature painters, airbrushes are being demystified thanks to the proliferation of video guides and instructional blogs. Demand for airbrushes and their accessories is increasing, and we plan on meeting those demands with a couple of ranges that will help you explore this great way to add that extra touch to your already great painting skills.
Hex n Chit Games: My introduction to gaming came at the tender age of eight, when I purchased my first copy of Avalon Hill's Starship Troopers. It was a prime example of a style of game that was very much in vogue during the 70's and, while less popular today, is still very much in demand with nostalgic gamers and those who prefer deeper game play and more complex rules. While still being produced by a handful of companies, the smaller demand for these types of games means that they are often underrepresented in most game stores. We're hoping to change that by providing a good starting selection and letting it grow based on your requests.
MORE SERVICES

Try it before you buy it! It was the credo that launched our Game Rental program five years ago and one that we still stand by today.
While they provide exceptional value over time, games can backfire as an investment if they fail to meet your expectations. We really love to spend as much time as we can showing you the latest and greatest titles, but we simply don't have the manpower to accomodate all your demo requests. Our rental program gives you the power to bring a game home (or play it in our shop) and take if for a test drive, allowing you to make an informed decision before investing your hard earned money.
Trouble is, the current proliferation of titles is quickly evaporating our library space. The new location will allow us to expand the existing selection of games while expanding the program to incorporate role-playing adventures and accessories. You will also have more more options to choose from, such as unlimited daily rentals and monthly passes.
So what do you think? Did we find a good spot? Do you have an idea for store number two should go? Stop by the shop to let us know, or speak up on our social media channels: we're always curious to hear your thoughts.
Here's what a few of your fellow players had to say when we asked those questions months ago:
Hey John, first of all congrats! Depending on the location of either a 2nd store or uprooting and relocating all determines on how good the location is. It seems like you staying at your current location and expanding might be the best option unless you can get a really good deal on a new location. You have a big following at your current location and even for the customers that complain and wish you were closer, they are still willing to drive out and go to your current one.
My second option would be to uproot and relocate depending on where the "New Location" would be and if the price is right. I'm sure your customers would follow but some people may not like change since they could end up having to drive further away to get to your store.
Best of luck to you and your staff!
Moving would allow a path that would not only meet current needs but would let you plan for future growth with the new location picked to meet that future growth/needs. You would not be confined or forced to work around the current buildings physical challenges.
While opening a 2nd store comes with its own additional risks I think its worth the leap. You are able to expand your customer base without alienating you current players. And hopefully you will move closer to me!
As you say, you're in a pretty good location now (which will be better when all the road work is finished!) You skip the hassle/expense of educating your customer base of the move, and at the same time can get everyone excited about the new space.
The big worry is the gaming space. A lot of game stores have their gaming "in the back" and it always feels like the private room nobody is supposed to go to. Having your tables front and center is much more inviting, especially for newcomers. If you do stay, please try very hard to find a way to keep the tables out in the open.
Details

Written by

John Coviello

Category: It Oozed From the Office
Hits: 3172
As you may know from reading the last episode of It Oozed From the Office, we've reached a crossroad for our shop; one that calls for a difficult decision to be made. The growth of our business along with the expiration of our current lease means that we have to choose between expanding in place, moving to a larger location or opening a second location.
We considered these options carefully over the past two years and, more recently, we asked you for your own opinions on the matter. From the responses we received, it appears that great minds think alike. Most of you wanted what we desired as well: to stay in our current location and expand our physical space.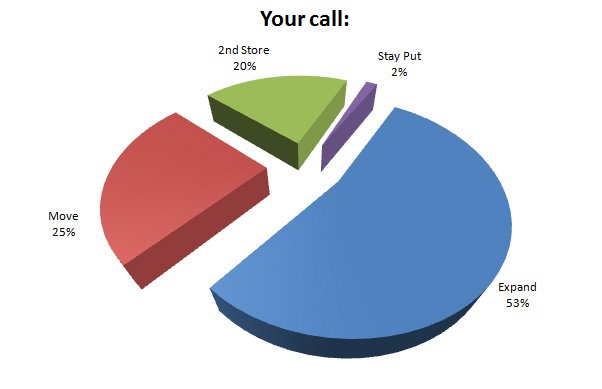 Like the majority of respondents, we ruled out opening a second store as an option for the time being. Most of you felt that market saturation was a compelling argument against this course of action, but the coup de gra on a second location comes from our current shortage of trained Wizards. Much of the compliments you lavish upon us, and a large part of the success of our shop, comes from the quality and enthusiasm of our staff. Without their help, it would be difficult to provide the same level of service in multiple locations. (We are still looking for a few good Wizards: apply here if you're interested).
So, great! We're not moving, right? Why bother moving when you have the chance to double your space in your current location? Good question, and one that's cost me and the rest of the Wizards plenty of sleep.
Truth be told, our shop will be moving this year: we signed the lease on our new location a few months ago. We thought long and hard about it, and we really wish we could have stayed in our current spot, but the reality is that the advantages of our new location far outweigh the disadvantages of a reloaction. Have a look at the reasons below and see if you agree with us:
Layout: in our current location, the landlord gave us the option to expand our store from 3,000 to 5,700 sq. ft. by knocking down our back wall and changing the layout a bit. Nearly doubling our footprint would solve a lot of our problems. We have lines that we want to bring in and existing ones that need expansion: in both cases, progress is halted by a lack of space. But here is the rub: the presence of a unmovable elevator/stairwell shaft leading to the landlord's offices on the second floor makes for a awkward ground floor layout.
As you can see, the shaft creates a physical barrier that nearly splits our store in two, making the back portion feel isolated and creating line of sight issues for our Wizards. Had we decided to remain in place and expand, we would have been forced to move the play area towards the back section of the building and limit the sales floor to the front end. Individually, this facilitates the shopping and playing functions of our business, but it also further divides the two. We've always seen our shop as a combined experience: purchases help us stay in business, organized play helps people stay in the hobby and provides added value to their purchases. Separating the two felt like taking a step away from a fundamental core value.
Cost: we negotiated a pretty good deal for our current space seven years ago, and the current landlord was not being unreasonable with his new terms. However, the new landlord came up with an offer we simply could not refuse.
By moving, we are able to nearly triple our current square footage while raising rent by half. Expanding in place would bring us to nearly double our current size, but it would also double our current rent. Very hard to pass up that proposition, especially given the prime location of our new property.
Total space: 5,700 sq. ft. is a relatively large size for a game store. Believe it or not, it was still not enough space to fully realize our vision for the next iteration of the Little Shop of Magic. At least one of our planned service expansions would have been severely hampered by space constraints, while another would have been left on the chopping block entirely. In essence, this new space won't just be larger, it will be significantly larger. Large enough to ensure that multiple groups of players can enjoy their game without fighting for elbow space and large enough to bring you a whole new host of services that we think you're going to love. Have a look at the chart below for a size comparison of our shop over the years: it puts things in perspective nicely.
Over the next few months we will be revealing more of our vision and planned upgrades, along with keeping you up to date with the progress of our new location. Even do there is a lot of hard work ahead of us, we're excited to bring a new level of store to Las Vegas for you to enjoy. Until then, I leave you with a few of the responses that were kindly submitted to our survey: thanks again to everyone who participated!
The store is beautiful and home to so many gamers. Going to a new location would be exciting but would feel a little like leaving the only home you've ever lived in - too unsettling.
You said it yourself.... Moving would allow you to bring to light those visions you have. Why wait?...life is short...and with a little risk you can get great rewards. The customers already drive to you. If you move they just have to drive to a different address. It's not like there are 100 game stores in town. Yours is the best, the customer will come. I live near Nellis AFB and drive to your location to buy my games.
I would love if you guys opened in Henderson just cause I hate to drive.
I just want you guys to win
A list of the raffle winners can be found here.
Details

Written by

John Coviello

Category: It Oozed From the Office
Hits: 3557
In case you haven't heard already, our store will be moving into a larger location sometime this year.
While we're not quite ready to reveal the exact longitude and latitude of our new digs (soon, promise: SOON!), the time has come to unveil some of the services and offerings this move will bring.
MORE PRODUCT

If you've visited our store during the past year, you probably noticed how packed things are. While we love to hear your 'ohhs' and 'ahhs' over our current selection, we know that we can do better and offer you much more. Our current store size limits our ability to bring in lines you're requesting, along with denying us the opportunity to experiment with a possible additions of our own. Short of cutting down on play space (which we are not considering), the only other option was to add floor space.
The move to our new location gives us the opportunity to spread out in many ways. First and foremost in the area of the product selectcion. Here's a quick glance at just of couple of the new lines you can expect to see in the new store:
Modeling supplies: We currently carry one of the largest selection of paints and miniature modeling supplies in Las Vegas. Your response to our introduction of the Vallejo Model Color, Reaper Master Series, Citadel Color, Formula P3, Secret Weapon Washes and Pigments lines has been overwhelwing positive. Now we're going to bring you the full line of Vallejo and Citadel Air colors, the Vallejo Game Colors along with the entire range Army Painter and Privateer Press tools. These new additions, along with a few new sidelines, that will ensure that 99% of your modeling needs will be fulfilled with single stop to our shop.
Family and Young Player Titles: The successful introduction of the HABA range, the number of parents attending our HomeSchool Game Days and the general increase in bright young minds attending our events points to an increase in families sharing our hobby together. While we don't intend on abandoning our more 'complex' roots, we do plan on expanding our selection of family-friendly games in order to help introduce the next generation of players to our wonderful hobby.


MORE TECH

Yes, we are 100% dedicated to the concept of unplugged gaming and the human interactions it fosters. However, it should be noted that life without the Internet well, sucks. Whether you're looking up erratas during a game session or you want to stay productive while chaperoning your kids to our Pokemon league, we understand your need to stay connected.
Unfortunately, up until now, security concerns prevented us from offering Wi-Fi services to our guests. Heavy encryption and a divided guest/private network is fine and all but, we are still uncomfortable sharing an internet connection that handles our customer's credit card information. However, thanks to the architecture of the new building, we will be able to provide a totally separate Internet pipeline and network for guest services, ensuring not only security for our customers, but additional bandwidth for our guests as well.
MORE SERVICES

Food, glorious food!
There's usually only one thing that can tear me away from a good game session, and that's the grumblings of an empty stomach. Wouldn't it be great if you could enjoy a heaping bowl of gelato on a hot summer day? Wouldn't it be better if you were sharing it with close friends, in the comfort of a climate controlled room while playing a great board game? Or how about sipping a shot or two of espresso to help get through round four of a midnight pre-release? (Lavazza or Illy, so long as it's Italian, I'm not discriminating).
With two chefs in my immediate family, you could say that food runs in my veins just as much as games do. Expanding the shop's selection of food is something I've dreamed about for a long time and now it's finally coming true: Buon Appetito!
We have plenty more surprises in store for you so stop by the shop for a chat, or chime in to our social media channels: we'd love to hear what you think about our future together!
Until then, stay tuned for upcoming spoilers and enjoy a few more responses from our customers below:
Since you already have the shop up and running, and it being a legend in it's own right with a decent landlord, it makes since to stay in your current space. You know what you are up against, and know the various quirks about the space, so you are rooted. Your base set of Customers, who already know you and love you, know where to find you and won't have their cheese moved too much. Plus, since your store #1 is already up and running, you won't have a period of profit loss having to close down and open elsewhere. It would seem the most beneficial to keep store #1 open, and there is still the prospect (minor as it may be) that the space upstairs could open up, potentially giving you more space to utilize in the future.
Opening a second location, store #2, gives you more room, potentially more Customers, and new space with which to work. You know the problems you faced with store #1, so you can already anticipate potential issues to minimize delay in opening store #2. Being a sound business person and avid gamer, I believe you have a general idea of where your current clientele and staff hail from, so opening a store near to a large population of Customers who already know and love you can only be positive. Plus, a new venue can attract new Customers, even with little effort in advertising. Having a second store would potentially attract more groups to come in for gaming, and give you the opportunity to spread out hosting responsibilities and types of gaming options.
Whatever the decision, I highly doubt that you plan to just keep going as you are currently set up. You need more space to fill the demand.
OK totally a selfish choice: Vegas is full of game stores (your my fav) but Pahrump could use a nice game store. You won't need as big a store in a smaller place, so you could have another one there. It is close enough to be able to run both, and far enough away to not compete with self.
Game stores are volatile, even the best can seem to drop off the map at the slightest mistake. I've seen too many local game shops close down in my hometown, so if you've got a solid deal to expand, I'd say take that. Operating costs would remain more or less the same, and you'd get so much more floorspace for wargaming, Magic tournaments, etc. Locational familiarity is a great thing to keep for your customers, even the ones that are far away will still come to you if you're the best... So expand now, then build a second location seven years from now. :)
Congratulations on your success with your game store - you're living the dream! I'm new to the area, I'll have to come check you out soon.
moar products moar gaming space moar everything!
Details

Written by

John Coviello

Category: It Oozed From the Office
Hits: 4334
Time flies, it's as simple as that. It seems like it was just yesterday that I penned my name on the lease for our shop's current home. However, the reality is that almost seven years have elapsed since that day, and that agreement is now set to expire this summer.
Which brings the inevitable question to mind: what's next?
For the past couple of years I've been pondering that question with our Wizards on almost daily basis. Now, I am happy to announce that a decision was made and that new binding agreements are in place as of last month.
Rather than just blurting it out, I decided that it would be fun to play a little game and let you wear my wizarding hat for a bit. Listed below are the top options we considered over the past 24 months. This is your chance to play 'game store owner' and make the decision that is best for your best for your business and your team: which one would you choose and why?
Stay put and renew the lease on the same space: seems like the safest bet. Overhead would not change, we can probably get away without increasing our team size and surprises would be cut down to a minimum. Our customers know where to find us and the location has good traffic, excellent visibility from two major streets, decent parking, ample food choices within walking distance and is easily accessible from most areas of the valley. Trouble is, we're busting at the seams here. Our events calendar is packed and we often have to pass on hosting events due to space limitations. 3,000 sq. feet seemed sufficient seven years ago, but we are now at a point where bringing in new lines or increasing the current depth of stock would force us to cut down on our organized play space. Additionally, our inbound shipments have reached levels that overwhelm our receiving room on a daily basis, forcing us to spill over into the sales floor/organized play areas and presenting our patrons with an unsightly mess.
Stay put and expand: the good news is that our current landlord is vacating the space behind us and would love to see us take it over. We would be able to knock down our back wall and stretch out into and area that would nearly double our current size and bring our store to a total footprint of almost 6,000 sq. feet. While much better than our current situation, the space is not without its issues, as it would require some walling in of roll-up bay doors, major plumbing work in order to relocate our restrooms and force us in a narrow, long rectangle that would move our gaming area towards the back of the store. On the plus side, two remaining roll-up doors would remain in place towards the back of the building, providing great access for inbound and outbound shipments and defining a dedicated room that should (in theory) be large enough to handle most of our receiving needs without a problem. Rent would go up by almost 70%, utilities are likely to climb significantly and we would most likely have to increase payroll to support additional Wizards, Apprentices and Goblins. There is a possibility that, in the future, our current landlord may also decide to vacate the space above the rear of the building, giving us access to an additional 3,000 sq. feet of organized play space: nothing is set in stone on this final point and, quite possibly, the second floor may never become available
Stay put and open a second store: we hear it a lot from our customers: "I love you guys and your store, but you are soooo faaar away from where I live". Expanding into a separate location would allow us to bring our services closer to more of our fans and would expand our geographical reach, but it would also significantly raise both our payroll and leasing expenses, while adding the logistical problems of operating multiple locations.
Uproot and relocate: we've looked around and we've found several prime locations in the valley have reasonable rents, meet the majority of our requirements, are significantly larger, are located in good neighborhoods, feature ample parking and, again, offer a variety of food choices within walking distance. Moving would allows us to really bring to light visions that were only a dream until now, but is not without its perils. No matter how well advertised, a move seems to always leave a few customers behind wondering what happened. Increases in square footage will, of course, result in many of the same problems as above: increased rent, staffing requirements and so on.
So, which one would you choose? If you pick the same choice we did, we'll enter you in a raffle to win your share of up to $250 in Dragon's Dough cards. Give us a reason why you decided on your course of action and we'll enter you in a second raffle of up an additional $250 in Dragon's Dough, even if your decision isn't the same as ours. Enter your submission below: we can't wait to see what you would do with your own store!
Submissions for this raffle ended on 2/27/2016 - Winners will be announced shortly.
Thank you for your participation.