As you may know from reading the last episode of It Oozed From the Office, we've reached a crossroad for our shop; one that calls for a difficult decision to be made. The growth of our business along with the expiration of our current lease means that we have to choose between expanding in place, moving to a larger location or opening a second location.
We considered these options carefully over the past two years and, more recently, we asked you for your own opinions on the matter. From the responses we received, it appears that great minds think alike. Most of you wanted what we desired as well: to stay in our current location and expand our physical space.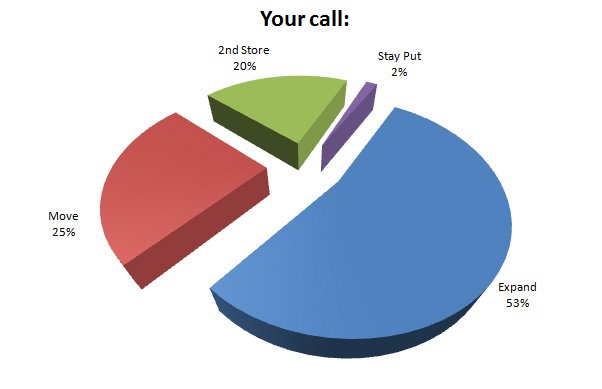 Like the majority of respondents, we ruled out opening a second store as an option for the time being. Most of you felt that market saturation was a compelling argument against this course of action, but the coup de gra on a second location comes from our current shortage of trained Wizards. Much of the compliments you lavish upon us, and a large part of the success of our shop, comes from the quality and enthusiasm of our staff. Without their help, it would be difficult to provide the same level of service in multiple locations. (We are still looking for a few good Wizards: apply here if you're interested).
So, great! We're not moving, right? Why bother moving when you have the chance to double your space in your current location? Good question, and one that's cost me and the rest of the Wizards plenty of sleep.
Truth be told, our shop will be moving this year: we signed the lease on our new location a few months ago. We thought long and hard about it, and we really wish we could have stayed in our current spot, but the reality is that the advantages of our new location far outweigh the disadvantages of a reloaction. Have a look at the reasons below and see if you agree with us:
Layout: in our current location, the landlord gave us the option to expand our store from 3,000 to 5,700 sq. ft. by knocking down our back wall and changing the layout a bit. Nearly doubling our footprint would solve a lot of our problems. We have lines that we want to bring in and existing ones that need expansion: in both cases, progress is halted by a lack of space. But here is the rub: the presence of a unmovable elevator/stairwell shaft leading to the landlord's offices on the second floor makes for a awkward ground floor layout.
As you can see, the shaft creates a physical barrier that nearly splits our store in two, making the back portion feel isolated and creating line of sight issues for our Wizards. Had we decided to remain in place and expand, we would have been forced to move the play area towards the back section of the building and limit the sales floor to the front end. Individually, this facilitates the shopping and playing functions of our business, but it also further divides the two. We've always seen our shop as a combined experience: purchases help us stay in business, organized play helps people stay in the hobby and provides added value to their purchases. Separating the two felt like taking a step away from a fundamental core value.
Cost: we negotiated a pretty good deal for our current space seven years ago, and the current landlord was not being unreasonable with his new terms. However, the new landlord came up with an offer we simply could not refuse.
By moving, we are able to nearly triple our current square footage while raising rent by half. Expanding in place would bring us to nearly double our current size, but it would also double our current rent. Very hard to pass up that proposition, especially given the prime location of our new property.
Total space: 5,700 sq. ft. is a relatively large size for a game store. Believe it or not, it was still not enough space to fully realize our vision for the next iteration of the Little Shop of Magic. At least one of our planned service expansions would have been severely hampered by space constraints, while another would have been left on the chopping block entirely. In essence, this new space won't just be larger, it will be significantly larger. Large enough to ensure that multiple groups of players can enjoy their game without fighting for elbow space and large enough to bring you a whole new host of services that we think you're going to love. Have a look at the chart below for a size comparison of our shop over the years: it puts things in perspective nicely.
Over the next few months we will be revealing more of our vision and planned upgrades, along with keeping you up to date with the progress of our new location. Even do there is a lot of hard work ahead of us, we're excited to bring a new level of store to Las Vegas for you to enjoy. Until then, I leave you with a few of the responses that were kindly submitted to our survey: thanks again to everyone who participated!
The store is beautiful and home to so many gamers. Going to a new location would be exciting but would feel a little like leaving the only home you've ever lived in - too unsettling.
You said it yourself.... Moving would allow you to bring to light those visions you have. Why wait?...life is short...and with a little risk you can get great rewards. The customers already drive to you. If you move they just have to drive to a different address. It's not like there are 100 game stores in town. Yours is the best, the customer will come. I live near Nellis AFB and drive to your location to buy my games.
I would love if you guys opened in Henderson just cause I hate to drive.
I just want you guys to win
A list of the raffle winners can be found here.